Relaxing Bath Ideas At Home:
When times of stress, and feeling depleted arise, where do you turn? Maybe it's a spa day, an evening at a yoga class, or a meditation session. Whatever it is you do to de-stress, it's certainly worth your time, and sometimes, even your money. However, in this post we take it back to a simpler time. Welcome to our post on relaxing bath ideas at home.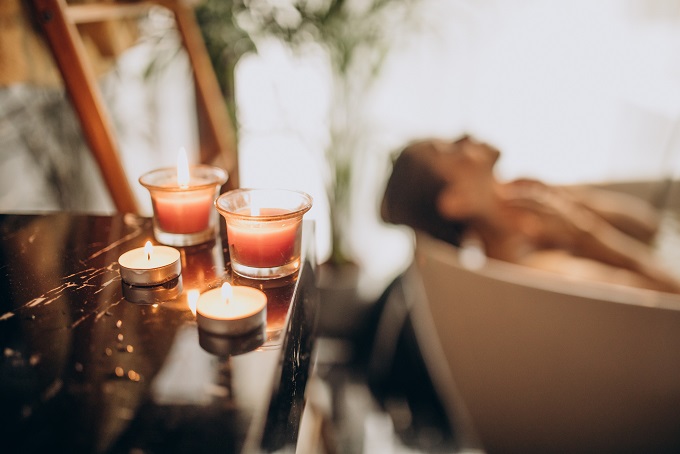 There are certainly many ways to enjoy a nicely drawn bath. At a time where self care seems to be at it's peak of importance, you need to understand the basics, right?
Now, we certainly aren't trying to take away from the advantages of a beautiful spa day, where pampering is at it's finest. With that said, it's often just another event to add to your already packed schedule. Oftentimes, setting time aside for tried and true methods of relaxation, work best.
Where're talking about the ultimate bath soaking experience. So here is how to do it, just right!
The Perfect Bath Experience:
Ever walk into a room in your house and immediately feel overwhelmed? Whether it be clutter or just a plain mess, it can actually have an impact on mental health.
In fact, one particular study, showed that individuals with a cleaner home, were actually healthier then individuals with messy homes. Therefore, this leads us to the first step in the process of the prefect bath.
Step 1: Start with a clean slate
Firstly, which could also fall under "setting the mood", is cleanliness. Even if your obsessed with cleanliness, give you bathroom some extra TLC. This involves not just using a bit of "elbow grease" on the tub, but also spending time to declutter and organize.
If you have ample time to prep, maybe even throwing those bath mats in the wash, to get them extra clean and fluffy.
Step 2: Continue to set the mood
Secondly, is to set the mood. You have a well cleaned bathroom, it's time to get creative and maybe even, mimic a day at the spa.
Soft dimmed lights can easily be replicated with candles as a great relaxing bath idea at home. Obviously, be safe with your candle placement, but also be heavy handed, placing multiple candles all around the tub area or bathroom in general.
Another idea, if the candle thing is not for you, is trying an essential oil diffuser. Diffusers can be easily set up, ultra portable, plus you get the added advantages of choosing your favorite aromas.
In fact, aromatherapy has shown some potential to be an "effect therapeutic option for relief of depressive symptoms", according to one systematic review.
Or there is the idea of bringing the outdoors in. Our mood can also be enhanced when we connect with nature. Next time at your favorite garden store, invest in some greenery.
Step 3: Catch up on stuff
Some people prefer complete silence in there time of relaxation. However, what soothes and relaxes some is different for others. Maybe your into a practice like meditation to help you relax.
If you're like us, however, there is nothing better then catching up on some of our favorite TV dramas, or reading a suggested book from a friend, so we can chat about it the next day.
If the above is your thing, then check out a bath daddy. A bath caddy comes in handy for a bath of this nature to hold your essentials. For example, your phone, iPad, or even a glass of wine.
Do a quick search on ETSY and even personalize one for yourself.
Step 4: Vino
Who can forget the wine, right? Not a wine drinker, try a cup of warm tea, or hot cocoa to elevate your bath experience.
Step 5: Accessorize Your bath
A Bath Pillow: There are lots of different bath pillows, make sure it is water proof!
Water Proof Speaker: Listen to your favorites, or relaxing-type music on a waterproof speaker. You can find ones that float or hang.
Color/Lighting: Add color to your water with waterproof lights. You can purchase submersible LED lights or other bathtub lights for under 20$ online, adding to the spa-type ambiance of your bathtub experience.
Step 6: Draw your bath
You've cleaned, you've set the mood, accessorized, and have your beverage ready to go. Now, it's time to draw your bath.
Using water just hot enough to where you can see the steam coming off the top, is perfect for us. Additionally, you can use bubbles for some fun!
Step 7: Fun for you skin
Then, add some personal favorite fragrances or scented skin products. For example Epsom salts for your sore muscles, bath bombs, or bath oils. Not only for aromatics, but oftentimes, these products have skin nourishing benefits.
Specifically, are you looking for bath bombs that will leave your skin feeling silky smooth? Make sure to read the ingredient lists. Ingredients like butters and clay's can add to that skin nourishing aspect of a bath.
For Your Skin Continued….
Why not add another layer of skin nourishing agents from a avocado face mask or using a beautiful sugar scrub.
Find all natural soaps, that leave your skin feeling moisturized, instead of stripping away all the good oils from the skin, like many mass produced soaps on the market today.
Final Thoughts On Relaxing Bath Ideas At Home!
Well that's it, we hope you have enjoyed this post about, how to create the perfect bath experience.
Have some favorite bath items? Feel free to share them in the comments section of this post.
Be sure to visit us again for more relaxation ideas. Please share any of our posts you like on your social media outlets!
References:
https://my.clevelandclinic.org/podcasts/health-essentials/decluttering-your-life-how-cleaning-and-mental-health-are-connected-with-dr-dawn-potter
https://newsinfo.iu.edu/web/page/normal/14627.html
https://www.ncbi.nlm.nih.gov/pmc/articles/PMC5241490/