Pumpkin Seed Extract:
Fall is around the corner, and all that comes with it. You guessed it, Pumpkins! Pumpkin spice, pumpkin pie, pumpkin seeds, pumpkin coffee, pumpkin donuts, and even pumpkin Twinkies, yum. Funny thing is, as it turns up more in food and beverages it's also popping up in skin peels, masks, creams and body lotions, according to Allure. Oftentimes, in the form of pumpkin seed extract or pumpkin oil.
Is there some secret ingredient or chemical compound in pumpkin to give you more beautiful, vibrant skin?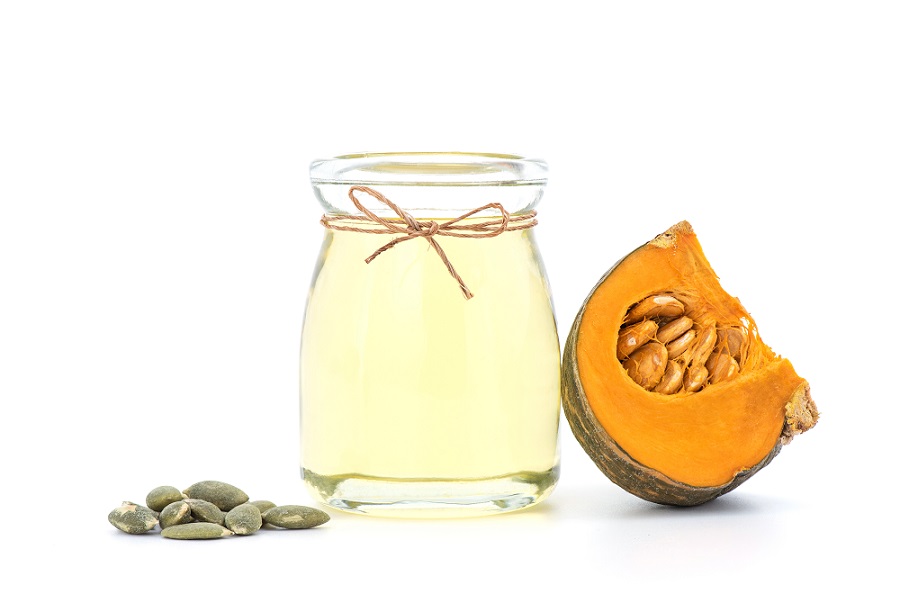 In this post, we'll touch on pumpkin and pumpkin seed extract/oil, and how it may be beneficial in some skin applications.
Related Article: This is Ex"tractly" What I was Looking for. Green Tea Extract Benefits for the Skin
What is Pumpkin Seed Extract or Oil (PSO)?
Color: Varies. Red/Amber to orange. Even dark green coloration
Commonly used for: Cooking and/or Health Supplementation
Flashpoint: 200F
Normal Usage: Up to 7% of total weight in soap, lotion, conditioner, scrubs, and bath bombs
Popular Nutrients: omega-6 fatty acid, omega-3 fatty acid, sterols, vitamin E, Vitamin C, carotenoids, zinc
Where does it come from: Pumpkin seed extract is a concentrated form of natural pumpkins. Oftentimes, resulting from pumpkin seeds and pulp, via cold pressing into a liquid. Pumpkin seed oil is also known as pepita oil.
You can find pumpkin extract in your favorite coffees and foods. However, this extract is also found in bath and beauty products. Ranging from pumpkin-scented lotions and soaps, to pumpkin face masks and scrubs.
Pumpkin Seed Extract Benefits For The Skin:
Hair Growth:
Pumpkin seed oil has been linked to hair growth. There are multiple studies out there, like this one in 2014. After 24 weeks, mean hair count increased by 40% with a group of male patients (receiving 400mg PSO) versus a placebo group. 
An animal study in 2019 also showed hair growth promotion with the use of PSO.
Helps Hydrate The Skin/Moisturizer:
Pumpkin extract products may aide in moisturizing the skin, keeping it properly hydrated. In fact, pumpkin extract has natural fats and nutrients that keep your skin well protected and properly maintained. With the essential fatty acids that make up the pressed oil, PSO can facilitate moisturization without leaving your skin feeling greasy.
Skin Elasticity:
Components of pumpkin seed oil like zinc and vitamin C also help with production of collagen. Collagen as well as other elastin fibers are important for skin tone, tightness and keeping skin feeling and looking young.
Exfoliates Your Skin:
Pumpkin extract might not seem like much of an exfoliator. However, some research has shown that pumpkin extract can help exfoliate the skin. However, maybe not in the conventional way you're thinking. Pumpkin extract has certain enzymes that break down proteins helping eliminate dead skin.
Helps with Inflammation and Bacteria Growth:
Finally, do you have sensitive skin or prone to breakouts. Topical application may be able to help. In fact, there are several plant based oils that can help with inflammation associated with acne. On top of helping with inflammation, pumpkin oil has also been linked to having antibacterial properties.
Research in 2018, showed pumpkin seed oil not only performed as an anti-inflammatory agent for the short term, but also for chronic inflammatory processes. 
Specific compounds in the oil, like vitamin E and Vitamin C are known antioxidants. Therefore, it makes sense that this would help to give the skin some sort of protection and barrier to bacteria. 
Animal studies like this one in 2016 suggested pumpkin seed oil as having a promising outlook on healing wounds in animal assays. 
More extensive research is certainly needed to validate these finding. 
One study (1999) on staph aureus reveled that pumpkin oil in fact did not inhibit growth at it's highest concentration.
Final Thoughts!
Thanks again for stopping by. Please be sure to share your experiences with pumpkin oil and products that you may have tried with some element of pumpkin incorporated!
Resources:
https://www.dermstore.com/blog/top_ten/pumpkin-skin-care-products/
https://factbasedskincare.com/pumpkin-extract-skin-benefits/
https://www.allure.com/story/benefits-of-pumpkin-ingredients
https://www.ncbi.nlm.nih.gov/pmc/articles/PMC6823528/
https://www.ncbi.nlm.nih.gov/pmc/articles/PMC4017725/
https://www.researchgate.net/publication/325575102_Facial_Acne_Therapy_by_Using_Pumpkin_Seed_Oil_with_Its_Physicochemical_Properties/link/5c117167299bf139c7547c21/download
https://www.ncbi.nlm.nih.gov/pmc/articles/PMC4827242/
https://pubmed.ncbi.nlm.nih.gov/10438227/