Aerial Yoga Benefits:
Those who practice yoga, generally are aware of the multiple "styles" of the discipline. Traditional yoga, over the years, has evolved and mixed with different ideas and exercises from other disciplines and beyond. The result is the creation of different types, some of which are truly unique, as in the case of Aerial Yoga. Let's take a moment to discuss the discipline and aerial yoga benefits.
Also called "yoga with the hammock", it is one of the newest forms. However, is rapidly spreading and attracting an increasing number of practitioners. The evolution of this practice is far from complete and we continuously witness interesting innovations, positions, methods and accessories.
Trying to keep an open mind and not the idea that change is necessarily a bad thing, if you are a yogi, we recommend that you deepen the subject and, perhaps, try this novelty.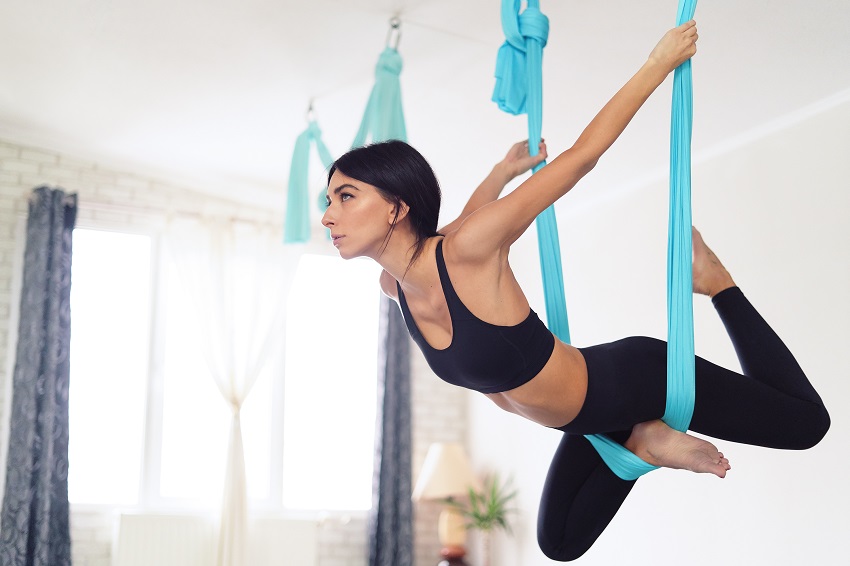 Aerial Yoga & Aerial Yoga Benefits:
The founder of this practice is Christopher Harrison, an American acrobat and dancer, who in 2007 "invented" anti-gravity fitness. Subsequently, many other masters have tried to adapt this practice to their teachings. Thus, creating a new kind of yoga that has evolved over the years and continues to evolve.
Aerial Yoga was born from the fusion of typical circus acrobatics, adapted to ordinary people, and integrated with yoga positions. For the practice, a hammock made with very soft stretch fabric is used. Beginning in America, it has spread all over the world, even to places like Italy. Today, there are many gyms that offer "Yoga in Flight" classes.
Although different from the classical practice approach, the aims are much the same. For example;
helping to realign the body,
strengthen the body,
to help better understand and know oneself,
to relax and strengthen your mind.

The Benefits of Aerial Yoga:
Yoga is known for the benefits it can introduce to the body and spirit. Aerial yoga falls along this same path. From a physical point of view, the most stressed muscle groups are rarely different from those in traditional practice. Aerial yoga can greatly decrease tension and stress on joints, like the knee's and wrists. In addition, have a positive effect on body fat, even blood pressure
The main benefits of aerial yoga are a noticeable strengthening of the upper body (especially of the hands). Furthermore, assist to help decompress the spine, improve balance, overcome fears, have more confidence and, above all, relax in a unique way.
The combination of the typical movements of dance, artistic gymnastics and Pilates, mixed with those of yoga bring with it the greatest benefits of classical practice, and those of muscle strengthening, stretching exercises, ideal for getting fit. With constant training you get a truly unique feeling of physical and mental well-being.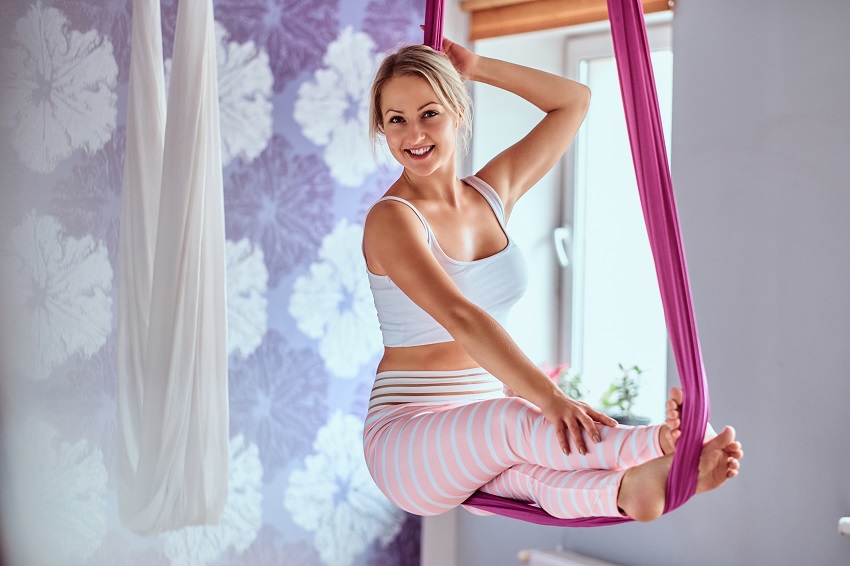 The Dangers – When To Avoid:
Like any sport, aerial yoga may not be indicated. Meaning, it's not suitable for everyone. If unsure, it's ideal to check with a medical professional or certified yoga instructor. Aerial yoga is just different from traditional yoga. It needs to be treated as such.
While modern equipment, and capable instructors make this practice suitable for all levels, injuries do, and can happen. Knowing your bodies capabilities is essential. For example, the practitioner can spend time upside-down in the hammock. Consequently, characteristics like body control, and strength are important.
Aerial yoga may not be recommended for those with high blood pressure (depending on a medical evaluation). In addition pain in the hands (such as carpal tunnel), sinusitis, heart, eye and ear problems, hiatal hernia and pregnancy.
Aerial Yoga | Home & Outdoors | Equipment:
Although it requires a lot of initial setup, practicing aerial yoga at home is possible. Obviously, it is essential to have space and an appropriate area to hang the hammock.
Equipment needed for most setups include a hammock, or aerial yoga silks, carabiners, choke loops, daisy chains, ceiling hooks and a manual. Some of the more popular brands include;
Gravotonics Swings
Uplift Active Yoga Hammock Kit
and YogaBody Trapeze Pro
It is possible to attach a yoga swing to say, traction bars found in parks as a support. Of course, finding them is a bit of a problem and not everyone is comfortable training in public, but is an option. Another recommendation is to wear t-shirts with sleeves or half sleeves in cotton, or cotton blends, that slips less. Definitely a sports bra for women!
Avoid transparent leggings ladies & gentlemen. You will be taking some fairly precarious positions. Keep this in mind. With upside-down poses, your shirt can even tend to flip down on your face, making this slightly more challenging. Point is, dress appropriately. We have even seen yogi's wear rubber gloves with rubber pads for better handle. Of course, No jewelry. A general rule of thumb is that classic yoga gear, usually works just fine!
Caring for the hammock is also important. Moreover, it is best to avoid zips, buttons, Velcro or heavy makeup that could dirty the hammocks. Cleanliness and being respectful to others in studios is also essential. These hammocks, like other gym equipment, can become dirty.
Final Thoughts!
Take the time to watch a few instructional videos on YouTube or other platforms to get accustomed to aerial yoga. Contact a studio and ask questions. Maybe even ask to sit in on a class. Above all, know your body and it's limitations. We can't stress this enough to avoided unnecessary injuries.
References:
https://gravotonics.com/aerial-yoga-7-little-known-benefits/
https://www.acefitness.org/continuing-education/prosource/january-2016/5757/ace-sponsored-research-can-aerial-yoga-take-your-workouts-to-another-level/#:~:text=At%20the%20conclusion%20of%20the,(highlighted%20in%20Table%203).
https://www.healthline.com/health/fitness/aerial-yoga#what-it-is