Types Of Yoga Pants!
Whether they are for actually practicing the art of yoga, or for just plain comfort, yoga pants are undeniably popular. Within the context of this post, we'll discuss types of yoga pants when actually practicing yoga.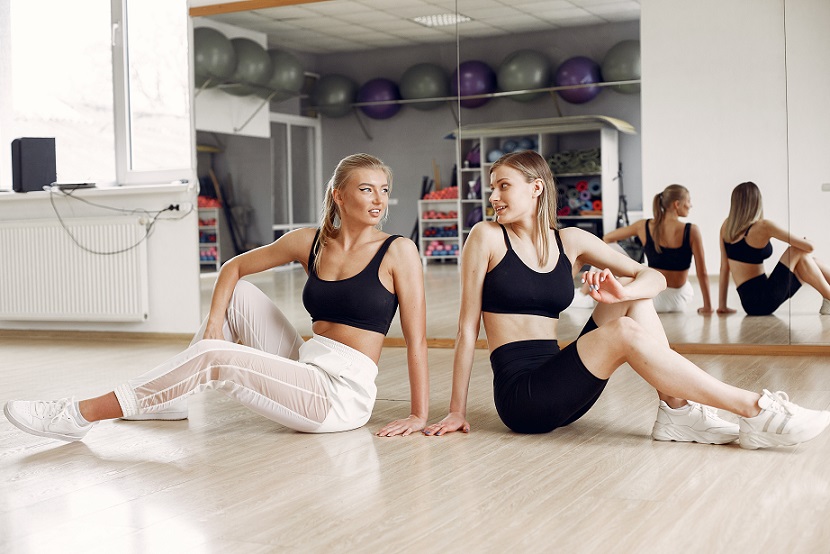 The popularity of this item is, and has been, simply off the charts for years now. Some of the most common features any pair of yoga pants should have are flexibility, stretch and comfort.
Let's face it, you are going to be doing various maneuvers and poses throughout any yoga routine, regardless of the style. Consequently, it's imperative that any style you choose is able to move with your body, and the contours of your shape.
Nowadays you have almost limitless options. Different types of yoga pants, seemingly pop-up, everyday. 
Pro Tip: When purchasing yoga pants, think about where you will be practicing, as this may also help guide your decision as to what style is best suited. For example:
Are your at home?
In a Park?
At a gym, or studio?
Characteristics Of Yoga Pants:
What are some of the characteristics you should look for in a pair of yoga pants?
a. Quality:
Even as (or should we say, especially as) a beginner yogi, invest in a quality pair of yoga pants. Quality over quantity.
Why? Oftentimes, cheaper pair (brands) can result in:
see-thru material.
excessive sweat through the material.
they may work against your movements.
or even displace in certain areas, riding up your waist, or worse.
Is this to say all inexpensive brands are bad, not at all. Generally, it's about "the brand" itself, and doing your own research. Additionally, with this day and age of peer reviews, don't overlook them. Many individuals within communities give a lot of thought into their reviews on yoga products.
b. Stretch:
One of the more common characteristics a pair of yoga pants should have is stretch. What we mean is, they should be non-restrictive, flowing with your body as you carry out poses (sequences), not limiting you in your ability.
A yogi should never have to think about their clothing while actually practicing, placing all of their effort and focus on their movements/mindset.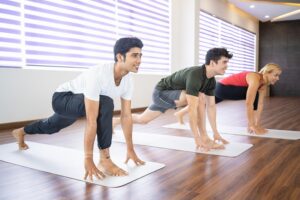 Pro Tip: There is a lot of "athletic-type" gear which is form fitting. Specifically, one's which focus on style, but also functionality, like pockets for your phone and such. What does this mean?
Well regardless of "how cool" you think a pair of yoga pants look or the pockets they may have, make sure they are going to perform in a class or during a routine, for you as the individual.
c. Breathable:
Breathability is another key ingredient to a great pair of yoga pants. Finding a pair that is breathable, like moisture-wicking material, may be the way to go. During styles of yoga like hot yoga, or vinyasa flow, even ashtanga yoga, you're going to sweat. Subsequently, make sure you come prepared with a pair of yoga pants that have breathability to them.
Oftentimes, yoga leggings are made of a combination of fabrics. These include polyester, spandex, and cotton. 
d. Comfort:
Last mentioned, but certainly not least importance, is comfort. How do they feel when they are on your legs/body? No one can tell you what is comfortable! Above all, is the freedom of working out for extended periods of time, while also feeling a certain level comfort.
Different Types Of Yoga Pants:
I. High Waist or High Rise Leggings: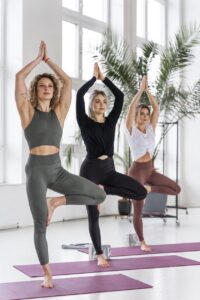 These are a fan favorite among the regulars of yoga. These leggings can extend from the waist down to the ankles. They allow you to easily bend and maneuver. Simulatensouly, are often made from activewear technology, adding to breathability and comfort.
One of the biggest benefits of this type of yoga pant is comfort, as they sit high-up on the waistline, meaning you are not over exposed when wearing something like a crop top (if you don't want to be).
They can be very figure flattering, as high rise yoga pants help to elongate the legs, and keep everything nicely aligned and tucked in, up-top. With a high rise yoga pant, you typically spend little to no time adjusting the top of the pants, giving you more coverage and comfort.
Whether going hard at the gym or for a casual run, these yoga pants are amazing and flexible enough to handle it all!
Related Article: Combing Bootcamp & yoga: Ideas For yoga Bootcamp
II. Not Yoga Pants At All: Yoga Shorts: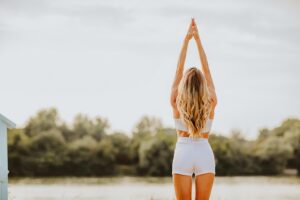 Obviously, these guys are not yoga "pants" per say, but we would not be offering good advice if not covering yoga shorts.
Most obvious with yoga shorts, is the amount or lessoned amount of material. Oftentimes, making them perfect for elevated temperatures, or high intensity yoga sessions. Think of yoga shorts as cut off, yoga leggings.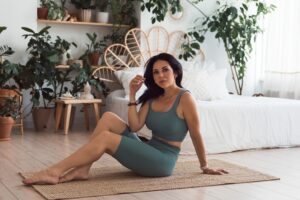 Where breathability is the big advantage here, so is maneuverability. These shorts can be great for yoga, but also many other styles of vigorous exercise. Many companies also offer a great selection in yoga shorts, from designs, patterns, and functionality, like phone or accessory pockets. 
Often, you'll find extended versions of yoga shorts that extend closer to the knee area for added comfort, for some yogi's.
III. Capri Style Yoga Pants: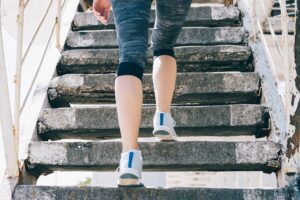 Much of what differs with Capri style yoga pants is the length. Capri style pants also come in a surplus variety of different types of fabrics and designs. Depending on the style of yoga, may depend if you purchase a looser fitting fabric (cotton, etc.) vs. spandex. 
Oftentimes, Capri yoga pants are chosen over other styles due to their combination pants/shorts look and feel. A yogi still gets that breathability, but some prefer the look or feel of longer leg gear.
Capri style yoga pants may also be more ideal if you're running in the cooler temperatures, like Fall. In this case, you may not be comfortable in shorts, but also not ready for full leg coverage.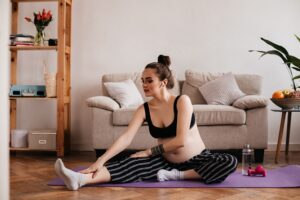 IV. Flare or Loose Fitting Yoga Pants:
However, if you prefer to stay away from spandex, it is totally possible to practice yoga in a more loose fitting apparel. This can be for aesthetic reasons, and may also have to do with comfort and maneuverability purposes.
So what exactly are we referring to? Well, this form of clothing can be similar to yoga spandex type shorts or leggings, however they are not snug to the body.
Some yogi's or exercise enthusiast just prefer more loose fit clothing, a style of apparel that is not snug-up against the body.
If you like a loose fit, these types of yoga pants may give you a more breathable feel (depending on fabric of course), and still offer flexibility of stretch. Like some Capri style pants, they can also benefit in the fact they are loose fitting around the lower legs and ankles, giving you that breathability factor.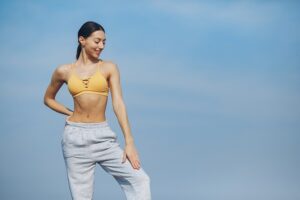 Oftentimes, you'll find this style has an elastic waistband or potentially an adjustable drawstring for added comfort to your own body contours. A drawback of this style for many is the increased amount of cotton usage, so pay close attention to this if it's meaningful to you and your practice.
Again, loose fitting yoga pants will come in a wide array of colors and designs that can be purchased, to go along with your needs and desires.
Tips on activewear, including; yoga pants, bras, tops & brands!
V. Yoga Sweat Pants/Joggers:
Believe it or not, there is actually quite a market out there on yoga sweatpants/joggers. We'll start off by saying, for us, this type of pant, is more of a loungewear or run errands type-pant. With this being said, sweatpants are coming up in all sorts of designs, materials, and stretch, making it very possible to workout in them as well.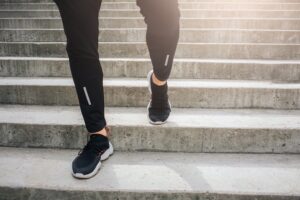 Yoga sweatpants, like the more loose fit, may come with a drawstring or elastic waistband. One of the most important aspects of this type of pant is paying attention to the fabric or material ratios. 
Heavier cotton is going to hold in your body heat much more then polyester and spandex. With their loose and easy fit, as well as being easy to top off with a T-shirt or crop shirt, you can use them even if you wander around outside in cooling temperatures. Additionally, these can be extremely flexible, depending on brand and fabric choice.
We have scene quite a selection available now offering 90-96% polyester and 4,6, and 8% spandex, which still makes yoga sweatpants a good option for doing different styles of yoga, due to the breathability and loose fit.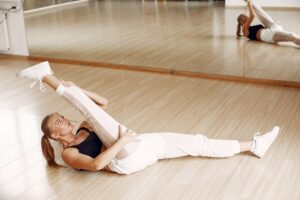 Many brands also come with added comfort by offering high waist or high rise options. On top of this, sweatpants and joggers come in a variety of length and intriguing designs.
Pro Tip: Make sure to always research the fabric/materials of all yoga pants!
VI. Harem pants:
A fan favorite for sure, as these pants offer comfort, flexibility, uniqueness, and are a great trendy unisex design, are Harem pants. The either elastic or drawstring waistline features offer even more functionality to these yoga pants.
Additionally, these pants come both a capri style or a full-length style. This baggy style of yoga pants, offer a tightly closed feel at the bottom of the pant. In particular, keeps them in place regardless the style of yoga one is performing.
Harem pants, because of their design, allows them to also be worn higher, or lower on the waistline, they are very adjustable to your figure and comfort level. Think of this styles as being airy and light, while also moving with the flow of your body.
Final Thoughts!
There are certainly more styles of yoga pants, but hopefully we have covered some of the basics to get your started with your gear.
Style and comfort are very subjective to each person. Make sure to try different types of yoga pants, some may just surprise you.
We would love to hear about your favorite style or brand of yoga pants. Please share this in the blog comments section.