Yoga Weekend Retreat:
Everyone would like to get away once in a while. What would be better than a yoga weekend retreat? You certainly do not need to be a yoga pro to take part in a yoga retreat. This article will lay out what to expect from a yoga retreat for beginners, including the following:
What Is a Yoga Retreat?
The Benefits of a Yoga Retreat
Types of Yoga Retreats
What to Expect?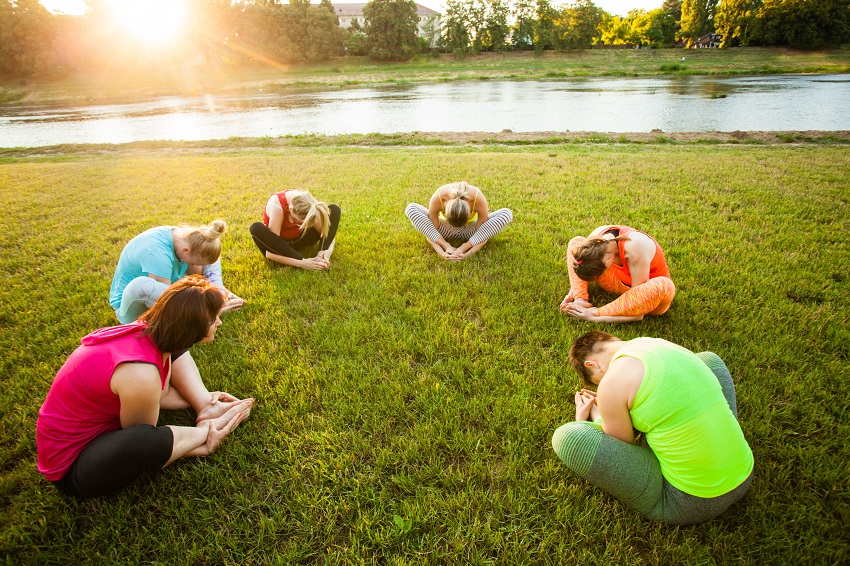 Related Article: Easy To Complete Yoga Sequences For Beginners!
How to Find & Register for a Yoga Retreat?
If you're looking to expand your yoga experience, consider registering for a yoga retreat. This is a fascinating way to focus on your personal yoga practice. Secondly, an opportunity to explore a new location. Lastly, a time to indulge in a weekend of self-care and enhanced well-being. But, what exactly is a yoga retreat?
What Is a Yoga Retreat?
Think of a yoga retreat as a vacation. However, one of the main features is practicing yoga. Too often you may have gone on vacation and intend to go to a yoga class. However, other activities seem to take priority. Well, a yoga retreat does the opposite. Yoga classes are integrated into your getaway.
A retreat of this kind is an opportunity to get away from your normal routine. Furthermore, experience a change in scenery, and focus on self-care. Without the constraints of your business home/work schedules, obligations, and other distractions, you turn your full attention to yourself.
Related Article: Beach Yoga: A Powerful Tool For Your Mind & Body, Yoga On The Beach
Benefits of a Yoga Retreat:
Overall self-care: take the time you deserve to truly take care of yourself.
Enhance your personal practice: an opportunity to improve your practice. Learn tips and techniques that will make you a better yogi.
Meet new people: encounter like-minded individuals who share your interest in yoga.
Learn additional self-care strategies: discover effective ways to continue your self-care practices long after you're home from the retreat.
Experience a new location: explore a new city, state, or country. Check that destination vacation off your bucket list!
Types of Yoga Retreats:
There are various types of yoga retreats. You can travel out of the country for a week or more, to enjoy the pleasures of yoga in a new place. Alternatively, you can also find local weekend retreats that will satisfy your need to get-away and clear your mind.
A weekend retreat of this sort may be at a cabin in the mountains, a resort at the beach, or even in a yoga studio out in the country. The idea is to remove yourself from your everyday circumstances. Consequently, so you can immerse yourself in the yoga climate.
Yoga retreats usually have a focus or intention to help guide the experience. For example, the retreat may be geared toward Mindfulness Meditation, or Stress Release. It may focus on a particular yoga technique, like Improving Upper Body Strength & Flexibility or Relieving Back Pain.
You can typically find a yoga retreat that appeals to what you need in your life for personal growth and development.
What To Expect?
Daily Practices: 2-3 yoga practices may be offered each day. They may entail some moving sequences, some focused bodywork, and meditative practices.
Healthy Meals: retreats are often catered. Expect to be served very healthy meals to ensure excellent nutritional value.
Site Seeing: if you're visiting a new city, state, or country, site-seeing will be incorporated into your retreat experience. Consequently, helping broaden your life perspective and exposing you to other cultures and practices.
Intentional Activities: other activities such as journaling, group exercises, or intentional breathing exercise, for example, will enhance your overall yoga retreat experience.
How to Find & Register for a Yoga Retreat:
To find a yoga retreat, start by visiting your local yoga studio. The studio may be sponsoring a weekend yoga retreat for its students. Individual yoga instructors also host yoga retreats.
Inquire with them to see what they are offering as a yoga retreat for beginners.
If you're not affiliated with a yoga studio, look at what's available by doing an internet search.
Think about what you're needing for yourself to elevate your own personal growth. Then, search for a yoga retreat to match. For example, a "Yoga Retreat to Reduce Anxiety," a "Yoga Retreat to Build Self Confidence," or a "Yoga Retreat for Complete Beginners."
You may be able to find local weekend retreats. However, if you're feeling adventurous, have the time and finances, consider a getaway out of town, for sure!
Final Thoughts!
The key is to temporarily step-away from your normal routine(s), take part in a yoga-focused vacation, and return home feeling refreshed and renewed. You may also feel inspired to practice more yoga to continue your personal growth and development!