Donut Shaped Bath Bomb Recipe:
Lets get right to the point and have a discussion about making a donut bath bomb. This bath bomb is another one of those interesting designs because like a real donut, you can get very creative with them. For example, making drizzles, adding sprinkles, frostings or other toppings to make for different looks.
It's also become quite a popular design, and finding molds to suit your needs is not to difficult for this bath bomb idea. However, we're going to talk about a specific mold that's reliable and simple to use.
At the same time, if you would like to learn more about bath bombs, ingredients or bath bomb colors , head on over to those links where we get into more detail.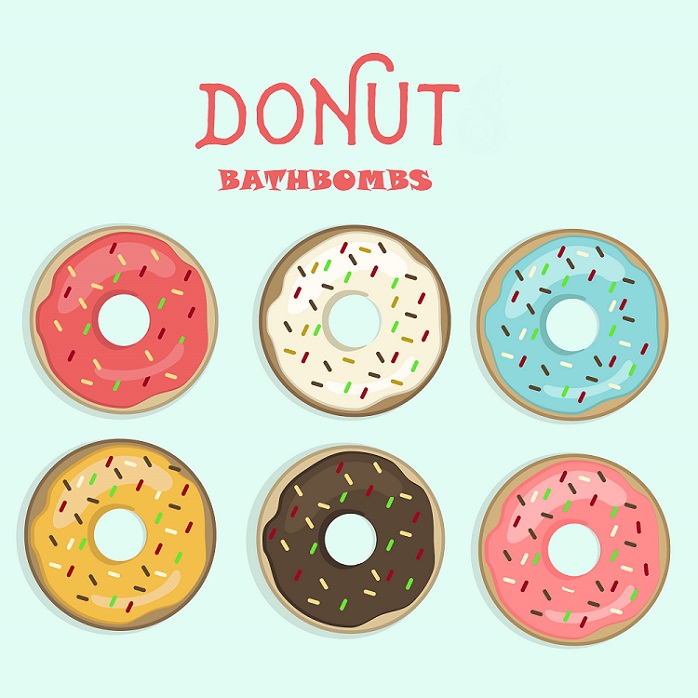 It's Popularity Is Crazy!
To be completely honest, we have no idea where the idea for donut bath bombs originated, but we're glad it did. Along with it being popular, it seems many other lifelike bath bomb designs have ensued.
Oftentimes, if you know of a small or large shop selling baths bombs, the donut shaped bath bomb is in there lineup, somewhere.
Two-Part Recipe Process:
There are 2 parts to this process. Firstly, it's creating the actual bath bomb using a donut mold. Secondly, is developing a topping recipe that you can pour, sprinkle or spread over the top.
Furthermore, the topping has it's own value. It creates some uniqueness, but also can add a whole new dimension. For example, some ingredients within our recipe helps to add smoothness to your skin, additional scenting, as well as additional foam or bubbling.
Recipe For Our Donut Bath Bomb:
Equipment:
Mixing Bowl
Measuring Cups & Spoons
Whisk
Pipette
Gloves, Goggles & Eye-wear
Medicine cups (3)
Doughnut Mold (CadaSoapery) – *Recommended
Spray Bottle
Dry Ingredients:
Baking Soda – 2 Cup
Citric Acid – 1 Cup
Sodium Lauryl Sulfoacetate (SLSA – This makes the foam) – 2 TBSP
Kaolin Clay – 1 tsp
Corn Starch – 1/2 TBSP
Pink Mica – 1 tsp
Wet Ingredients:
Sweet Almond Oil – 1 TBSP
Polysorbate 80 – 1 tsp
Birthday Cake Fragrance – Amazing Fragrance Oil
Spray Bottle of Witch Hazel
Birthday cake fragrance oil is awesome from Wholesale Supplies Plus. Again, you can check usage rate by putting in your recipe, in their calculator.
Directions: Part I – Bath Bomb
Step 1:
Firstly, measure all of your ingredients carefully using a scale.
Step 2:
Then, separate all of the dry ingredients into one bowl, and the wet into another. For example the dry ingredients include, baking soda, citric acid, corn starch, kaolin clay, SLSA & mica.
Your wet ingredients includes the fragrance oil, sweet almond oil & polysorbate 80.
Step 3:
Next, pour the wet ingredients into the dry ingredients and begin to mix.
Related Article: Common Bath Bomb Failures!
Step 4:
Start mixing with your hand to break up any clumps in the mixture, you should aim to buy ingredients that are fine grain, this will make the process easier and give better consistency.
Alternatively you could use a stand mixer. However, this is a small batch and quite easy to complete manually.
Step 5:
At this time, your mixture may be slightly damp from the wet ingredients. However, it will not be to the consistency for molding yet.
Step 6:
Grab your spray bottle of witch hazel and add 3-5 sprays into the mix and continue to mix.
Step 7:
Test your mixture.
But, how do I test it?
Grab some of the mixture in your hand and squeeze. If it does not stick to your hand and stays formed, it is most likely ready, or try the "drop test". (This requires you to repeat the above step, and then drop the mixture from 6 inches into the bowl, and if it stays together it is ready to be molded).
Step 8:
Repeat step 6 if not moist enough. Alternatively, if you over moisten the mixture, you can add a touch of baking soda.
Step 9:
Then, grab your mold, overfill each side of the mold and press together tightly, do not twist together.
Step 10:
Tap on your mold after about 5 – 10 seconds of pressure, and lift the top mold. Tap the bottom part of the mold and tip over into your hand.
Continue making them until mixture runs out, next comes the fun part, the TOPPING!
Directions: Part II – The Topping
Ingredients for the Topping!
Shea Butter (odor free, refined)
Colorants (we will be using red, pink and white mica)
Birthday Cake Fragrance
Colorful Sprinkles
Step 1:
Melt your shea butter, just until it is liquefied. shea butter melting point is about 90 F – 100 F degrees.
Step 2:
Pour a small amount of melted butter in 3 separate medicine cups.
Step 3:
Add a 1/4 tsp of each of your mica colors to your different shea butter medicine cups.
Step 4:
Stir them well. A small mini mixer works wonders for this. Add a few drops of birthday cake fragrance to each cup (too liking) and mix again.
Step 5:
Using your pipette, lightly squeeze (one) color )at a time) as you pass back and forth over your donut bath bombs.
Final Thoughts!
This is how you can create your own DIY donut shaped bath bombs. This is a fairly straight forward process, but if you're an experienced bath bomber, there are many other more complex recipes out there.
Thanks for coming by our blog, and be sure to share our recipes across your social media platforms.