Aerial Yoga At Home:
Aerial Yoga is an emerging form of yoga. Furthermore it allows yogi practitioners to soar in the air with equipment like, hammocks and silks to perform asanas. While this sort of routine may seem impossible to some, it can be quite the thrill and an additional challenge to others to help meet your bodily goals. This form of yoga has been around for roughly 15 years or so and has gradually gained more notoriety. Here is how you to can perform aerial yoga at home!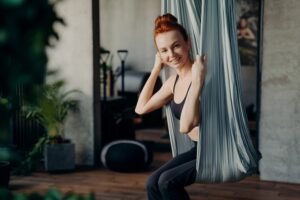 Why Aerial Yoga?
There is a relatively new research study published via ACE fitness (2016) evaluating health benefits of a single aerial yoga session, and a six-week aerial yoga intervention. After the six weeks of aerial yoga, the study found that participants had measurable reductions in common risks factors for cardiovascular fitness. The single session proved to be equivalent to a low-moderate intensity aerobic exercise.
Oftentimes, this type of yoga can be performed at a studio/gym with professionals (recommended as a beginner yogi). However, it is also possible to perform at home by installing aerial yoga hammocks or swings into a specific room or another area of your home.
Relate Article: Aerial Yoga: What are the Best Aerial Yoga Postures for Beginners?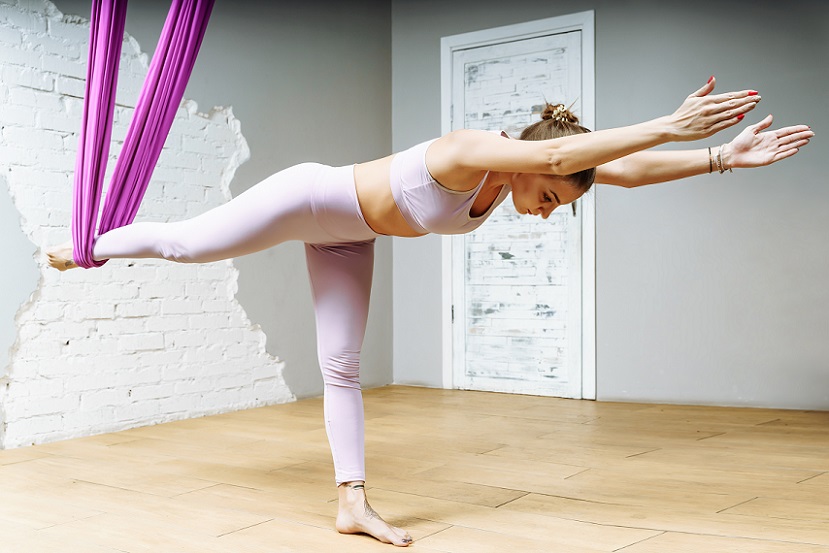 With the use of aerial yoga slings, you can try popular yoga poses in an alternative and fresh way. Often, these advanced poses can be difficult to learn at first, but like many other forms of yoga, you can build yourself a foundation in time.
Aerial yoga, (also known as antigravity yoga), uses gymnastics and other acrobatic maneuvers to challenge yogis as they look to take there strength and flexibility to another level. Additionally, helping to lengthen and realign the body.
Several companies have expanded into the niche yoga practice that offer portable aerial yoga systems. These companies include OmGym and Gorilla Gym to name a few. At any rate these systems make it possible to perform aerial yoga at home as well, safely.
With the right tools, and aerial yoga equipment, anyone can get into this style of yoga. Above all, some of the additionally benefit including;
Improve strength.
Better Flexibility.
helping to increase length in your spine (spinal decompression).
potential to ease pain.
What do the different brands have in common? What really makes up an aerial yoga "system"?
An aerial yoga system is made up of a few essential components;
Silk and/or hammock to lift participants off the floor and suspend them in the air.
A suspension system, like rigging equipment, or a metal frame.
Top Yoga Hammocks, Swings, and Slings For Aerial Yoga At Home
I. UpCircleSeven Swing
UpCircle offers quality aerial yoga swings for buyers in a multitude of colors. This swing can be easily attached to door frames, or rafters (ceiling beams), ceiling mounts, and even swing sets in or at your home. This is a comfortable and safe product that uses material from parachutes.
It has handles to help you stay inverted and stable while performing aerial yoga at home! This product can be a bit on the pricey side, but it may just be worth the money if you are an avid yoga practitioner. Additionally, they also offer a fairly easy and straight forward return policy.
Installation Guide UpCircle Yoga Swing
II. EverKing Yoga Swing
The EverKing Yoga Swing. Another solid aerial yoga swing, for your home. Besides being slightly more affordable option, this swing comfortable and secure, being made of parachute fabric as well. The actual hanging kit has a weight capacity of 600lbs.
The swing itself, holds up to 400 pounds of weight and has plenty of straps and handles to help you get settled during your yoga practice. They offer an easy to use installation guide as well, and a 12 month warranty.
Related Article: Next Level Yoga: Advanced Aerial Yoga Postures & Poses
Check out some Beginner & Intermediate Aerial Yoga Sequences!
III. Gravotonics Inversion Sling
The Gravotonics aerial yoga swing is cute and functional. This is a lightweight hammock that is also made from similar parachute fabric for durability, strength and maneuverability. It's a great swing for beginners, as it comes with instructional DVD's.
You might want to purchase ceiling hooks to install this Sling or to install any aerial yoga product. Easily move your body horizontally, vertically, or upside-down as a multitude of arm and leg handles are available on this swing.
One of the the most important parts to buying any of these hammocks or slings is to make sure you have a stable and functional place to add this piece of equipment.
We always encourage buyers to read full descriptions of products and reviews as these can answer many questions you may have about installation or quality of equipment. Many products even now offer video-guided installation instructions for ease of setup.
Quick Generic Guide For Assembling A Yoga Hammock!
IV. YogaBody Trapeze Pro Inversion Swing
The YogaBody Hammock is large and well equipped to handle more complicated acrobatic yoga poses. You'll find that slightly more space is needed to place and/or install certain yoga hammock/sling brands. Although more expensive then some, once this hammock is installed, it can be a game changer for upping the way you yoga.
Like the Gravotonics hammock, this inversion swing offers video instruction in the form of a series of videos (online access to professional tutorials), while also inlcludes a pose chart.
This is a professional grade yoga hammock, offering pro grade quality and extremely lightweight. This swing in weight tested for up to 600lbs. Like other hammocks and swings, make sure to read description of products carefully, as some come with everything you need to setup and others come with just the hammock or swing. This particular brand does not include things like ceiling hooks or a stand, so keep that in mind in the research and purchase process.
Final Tips For Choosing Aerial Yoga Products
We introduced some great aerial yoga products for your home, as always some of them based on need and cost, will feet to each individuals lifestyle differently. However, if you still have not found what you're looking for and wish to look into other brands, you may want to consider the following things.
You want an aerial hammock or swing that fits with your home. So look at size options and color options.
In addition, the materials of your hammock should be of high quality. This way your hammock can bear your weight, safely.
Cost and function should be thought about as well. You don't want an aerial swing that is out of your budget or doesn't meet your aerial yoga needs.
Final Thoughts:
Aerial yoga is a a great way to challenge yourself, helping to increase your overall body strength, flexibility, and balance. With today's explosion of yoga onto the fitness scene, keep in mind, there are many other yoga props to try to enhance your yoga experience.
Thanks for stopping, we hope this post helps on your journey to aerial yoga. Be sure to stop back and check out our latest posts here!
References:
https://www.acefitness.org/about-ace/press-room/press-releases/5833/ace-study-evaluates-health-benefits-of-aerial-yoga/