Boat Pose
Name: Boat Pose
Sanskrit: Paripurna Navasana
Pronunciation: (PAR-EE-POOR-NAH NAH-VAHS-ANNA
Pose Level: Intermediate Level yoga pose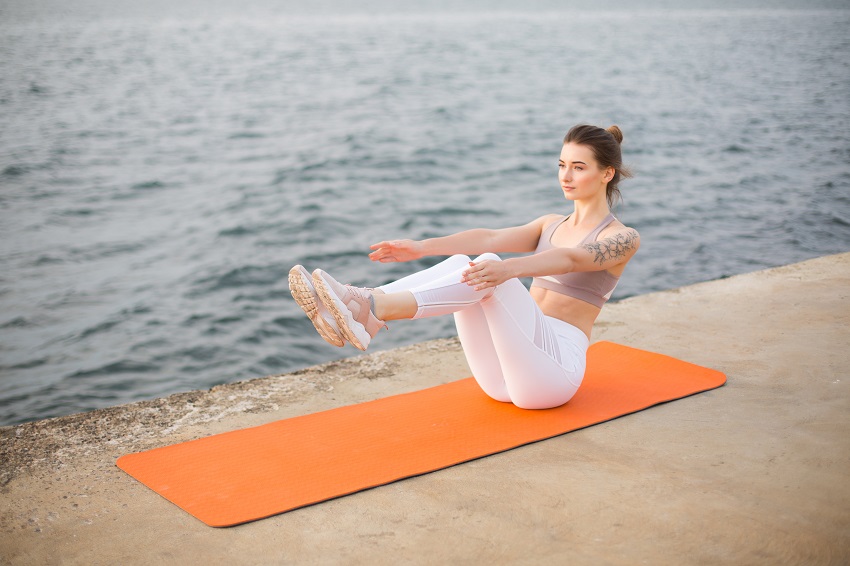 Anatomy involved:
Lower back
Core
Pelvic
Quadriceps
Benefits:
Strengthen the core of the body, hip flexors
Improve quad strength
Improve balance, confidence & focus
Increase physical and mental endurance
Provides a stretch to the posterior portion of the legs
Aides in digestion
Step-By-Step of Boat Pose:
First take a seat on your yoga mat.
Then, walk the toes/feet inward toward your buttocks. Place your hands on the back of your thighs
Create a long spine by opening the chest and bringing the shoulders back
Come up on the toes, lean slightly back. Then, gradually bring one leg up and down.
Afterwards, do the same to the other leg, up and then back down.
Take a few breathes in and out.
Now, attempt to bring both legs up, continuing to hold the backs of your thighs for support.
Get your balance. If you need to bring the legs back down, do that once again.
When comfortable, bring both legs up and begin to straighten them
Simultaneously, you can bring both arms parallel to the floor.
Breathe for a few cycles, increasing the hold over time.
Pose Modifications:
If you find this pose difficult to execute, there are variations to try. Firstly, attempt to use your hands to support your legs. Alternatively, you can try a strap to wrap around the soles of your feet.
Related Article: Improve & Complete Your Yoga Routine: The Essential Yoga Props
Secondly, don't over elevate/extend your legs to an uncomfortable position. Keep them bent and lower if need be.
You can also do Boat Pose in a Chair. Or try Half Boat Pose.
Lastly, try placing the soles of your feet on a wall in front of you.
Related Article: Common Wall Yoga Postures For Beginners: Yoga Off The Wall
Contraindications:
Any recent or chronic injuries to the core, hips or shoulder joint.
If pregnant, be sure to consult with a medical expert. If novice to yoga, having a yoga instructor for the first few sessions is beneficial.
Avoid this pose if suffering from diarrhea, headache or low blood pressure
Poses Commonly Transitioned To:
Half Boat Pose, Bridge Pose
Poses Commonly Transitioned From:
Easy Pose, Staff Bound Angle Pose, Sun Salutation, Warrior I Pose